Cappadocia which is unique in the world and is a miraculous nature wonder is the common name of the field covered by the provinces of Aksaray, Nevsehir, Nigde, Kayseri and Kirsehir in the Central Anatolian region.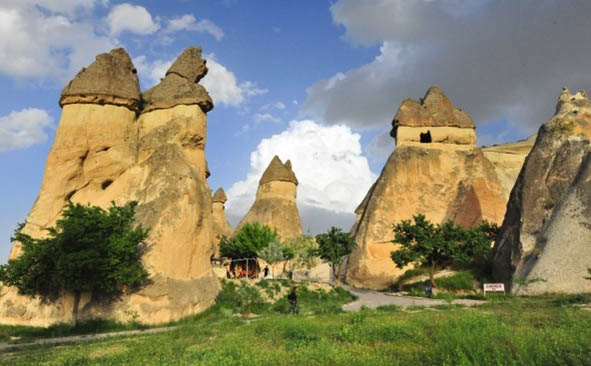 In the upper Myosen period in the Cappadocia region as a result of the vulcanic eruptions occurred in Erciyes, Hasandag and Gulludag, in the region was formed a large tableland from the vulcanic tufas and together with the erosion of the Kizilirmak river and wind over ten thousands of years there appeared the chimney rocks which are a wonder of the nature. In the old Bronze Age the Cappadocia which was the population zone of the Assyrian civilization later has hosted the Hittite, Frig, Pers, Byzantine, Seljuk and Ottoman civilizations. The first Christians escaped from the persecution of the Roman Empire in the 2nd century B.C. came to the Cappadocia over the Antakya and Kayseri and they have settled here. The first Christians finding the underground cities from Cappadocia have been hidden in these underground cities which gates were made in such way in which they couldn't be easily observed and they have escaped from the persecution of the Roman soldiers. Due that they had live in the underground cities for long duration without being able to go out they have developed these underground cities by making provisions rooms, ventilation chimneys, wine production places, churches, abbeys, water wells, toilets and meeting rooms.
In the prehistoric periods the first human settlements have begun and the humans have constructed the underground cities in the volcanic rocks in form of tufa due to protect themselves from the wild animals and they lived for long times in these underground cities. There are so many underground cities on the Cappadocia area of Turkey but the biggest is Derinkuyu Underground City.
In these cities made in form of rooms connected to eachothers some of the rooms were connected to each other only with the tunnels tight and permitting passing of just a person. At the access gates of these tunnels there were huge stone rollers used for closing the tunnels for security reasons.
For simplify your tour you may divide the Cappadocia area into four sections. Urgup and surrounds, Goreme and surrounds, Avanos and surrounds, Guzelyurt and surrounds.
Cappadocia which is in our days one of the most important tourism centers of Turkey and Cappadocia balloon tour on of the most popular balloon tour center of the world is visited every year by millions of tourists coming from every part of the world. I think Cappadocia is the best destination of the World.